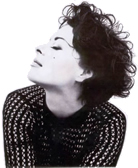 Lisa started her career co-hosting a children's TV pop show and could be seen in 1983 children's television series. Her musical career took off in 1986 in Rochdale, England, the city where he moved with his family at the age of 11.


During that year, toghether with Andy Morris and Ian Devaney, his classmates (which originally called themselves Ede Bop), formed a group called Blue Zone.

The group consisted of:


- Lisa Stansfield: lead vocals.


- Ian Devaney: trombone, keyboards, guitar, backing vocals.


- Andy Morris: trumpet, flugelhorn, electronic keyboards and backing vocals.


In the following years, the Blue Zones brought their productions to various record labels, until an independent production company, the Rockin 'Horse, signed them. The Rockin 'Horse was eventually bought by the famous Arista Records.

After the singles On Fire, Thinking About His Baby, Jackie, and the album Big Thing in 1988, the group underwent a radical change: in March 1989 Lisa achieved big success with her guest vocals on Coldcut's record "People Hold On" and the career of the Blue Zone as a group actually stopped here. Stansfield, Devaney and Morris did not separate, but continued to work together until Lisa's second album.

Ian Devaney continued to actively participate as a musician, producer and arranger for other albums of Lisa, and the two became husband and wife in New York in 1998.


Andy Morris began to separate from the group at the time of So Natural, Lisa's third album, in which his contribution is very limited. His career will continue later with Arista and other independent labels. In 2004, together with other artists, was the co-author of the song Understand from the album Mind, Body & Soul of the soul singer Joss Stone.


Some curiosity

In 1998 the British-born Australian singer Joanne Accom publishes a cover of the song Jackie, that reaches the 3rd place in the Australian charts, and 5th place in New Zealand.

Among the songs not included in the Blue Zone album, Big Thing, and recorded by the group there are Chance it, Sing It, Big Thing (published in single-edition vinyl and promo), There Was I, Dirty Talk, Be the sugar, and a brand new The Answer (published in 2003 in the complete collection).


As a promo it's also published in 1986 Love will wait, in various editions and formats, under Arista label, and the 12'' promo disc titled Finest Thing, which will be followed by the remix version of the same name.


Blue Zone had three videos from the singles Jackie, On fire, and Thinking About His Baby. In the video Jackie Lisa started to wear her famous "kisscurl".


In the U.S., the group is known as Blue Zone UK to differentiate from an American group with the same name.